We can locate utilities indoors and under floors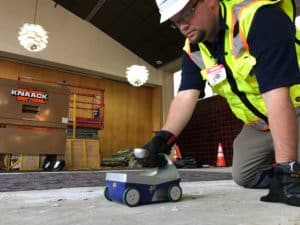 Unlike the 811 system, Utility Locator, LLC can locate existing utilities inside a building. Whether you need to core though multiple floors, or need to saw cut a trench in the basement / ground floor level, our team of skilled utility locators can detect and mark-out utilities and structural members embedded in and below concrete walls, floors, and columns. We can even locate sanitary sewer lines under the concrete floor for your future tie-in. Call us today for a free quote at (888) 232-5959.
Commonly called "Floor X-Ray," or "Concrete X-Rays," our concrete imaging radar works much like our standard Ground Penetrating Radar, and doesn't use the hazardous radiation found with x-ray imaging systems. Concrete imaging radar utilizes the same GPR technology to detect conflicts such as reinforcement, conduit, cables, piping, post tension cables, and more in concrete floors, slabs, walls, columns, and other surfaces.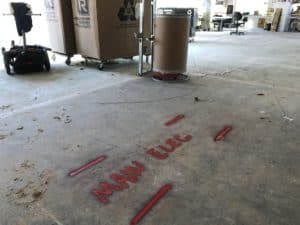 Concrete imaging radar utilizes a high frequency radio wave emitted from the radar unit to detect the presence of conflicts. Although this high frequency provides a much higher resolution image compared to traditional ground penetrating radar, it does not provide as much penetration into the scanning surface. On average, we can detect objects up to a depth of 20 inches.
Concrete imaging radar can also produce an "x-ray like" image. This is created by performing a series of scans in a pre-configured grid pattern. The scans are them compiled in the on-board computer, and can be displayed in real time. Safely core concrete surfaces without any fear of damaging embedded rebar, conduits, cables, or more.
THE DOCUMENTATION YOU NEED TO GET THE JOB DONE RIGHT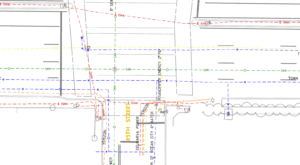 We provide our clients with all of the documentation they need to prove a qualified 3rd party firm provided utility locating support on the project. We include our superior utility mark-out using paint & flags, a project report, professional utility sketch documenting the utilities that were designated, and site photographs at no additional charge.
Speak With an Industry Expert Now
Concrete Scanning SERVICES WHERE YOU NEED THEM
Utility Locator® has office locations throughout Pennsylvania, New Jersey, Delaware, and Maryland. We are quickly becoming the area's largest and most reliable source for concrete scanning & imaging services. 
PENNSYLVANIA/ Lancaster, Media, & Jenkintown
NEW JERSEY / Piscataway Township
DELAWARE/ Wilmington
MARYLAND/ Ellicott City
You've got questions, we've got answers