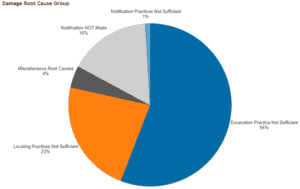 The release of last month's Common Ground Alliance 2016 DIRT Report is a sobering reminder about how important it is to excavate safely around underground utilities. The CGA reports that 56% of utility damages are the result of insufficient excavation practices, and an additional 16% were the result of not calling 811. The report estimates that the cumulative estimated cost of underground utilities in 2016 adds up to nearly $1.5 Billion. These estimates do not include costs associated with equipment damage, downtime, injury/deaths, and other intangible costs such as damaged reputations.
How do Utilities Get Damaged?
There are multiple reasons underground utilities could be damaged. Failure to make appropriate notification to the utility companies is one root cause identified by the CGA 2016 DIRT Report, which reports that 16% of damages in 2016 were the result of not making a notification to Call 811. The majority of utility damages, 56% of them, were caused by insufficient excavations practices. This would include damages that were the result of excavators accidentally damaging utilities that they are trying to expose, as well as utilities that are damaged because the excavator made inaccurate assumptions about the depth or width of the utility.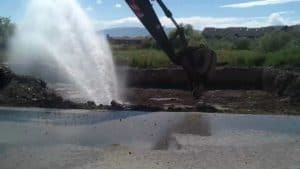 Many times, equipment operators will make assumptions about an underground utilities suspected depth or width. Assumptions are just that, assumed information, and what happens when the assumption is wrong? Some of the most common assumptions that are made are about an underground utility's depth. Many will make the conclusion that an electric line must be 24″ or 30″ or deeper. Perhaps it was 24″ deep when it was installed 30 years ago, but what has happened to the elevation since then? Has there been erosion, new landscaping, or something else? The line that used to be 24″ deep may very well be only 12″ deep today. The same can be said for gas and water pipes. Assuming the size or depth of a utility without verifying it with Quality Level A Data is dangerous and reckless.
What are the Obvious Costs?
There are obvious costs associated with utility damages, such as the time and material needed to repair the utility. Often times, the affected utility will also charge for downtime. This charge is to cover the lost revenue the utility provider experienced while the utility was out of service. The cost that a utility company may charge vary widely depending on the type of utility damaged, and the number of end users affected by the outage.
In addition to the utility repair and downtime costs, damages that are determined to be the result of negligence of the excavation company may have fines imposed. This will vary case by case depending on the details of the damage and the State's regulations and standards.
What are The Hidden Costs?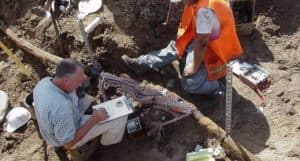 Some of the hidden costs are intangible, meaning that it is impossible to assign an actual value to it. Some of these costs are in the form of a company's reputation, lost opportunities based on previous poor performance, and lost revenue that comes as a result of an increased Experience Modification Rate (EMR). Other hidden costs that are often not discussed is the repair or replacement costs of damaged equipment. Many underground utilities, when struck, can react violently, damaging expensive equipment in the process. When a utility is damaged, there will also be costs associated with additional project management, meetings, lawyers, etc. These types of costs can consume a serious portion of a project's budget, not to mention that this is just the tip of the iceberg. What about if the unthinkable happens? Injuries and accidental deaths can not only take a serious toll on construction projects, but they can completely destroy good companies.
But wait, there's more!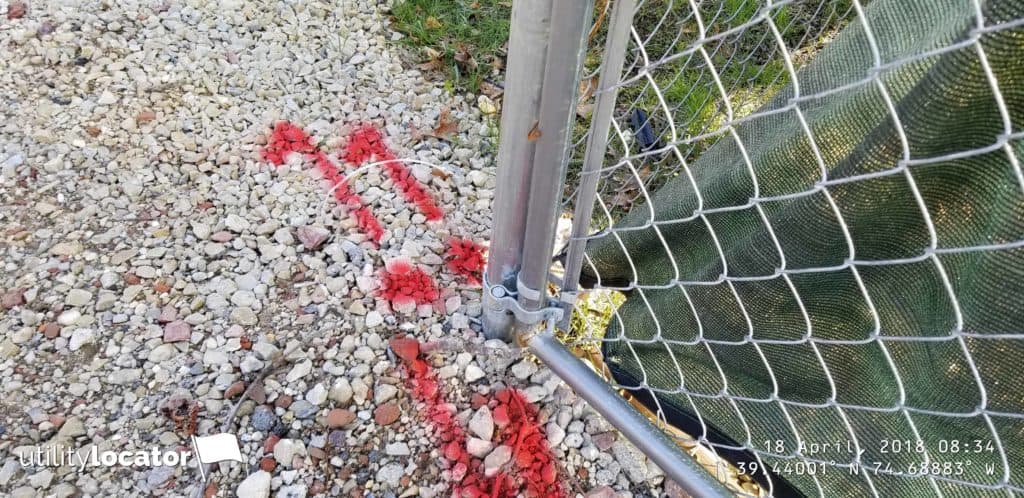 All of the costs we have discussed so far have been from the 2016 CGA DIRT Report, which does not include data related to the private utility industry, which go widely unreported. When working on private campuses like hospitals, universities, and factories, private utilities can account for 85% or more of the underground utilities present on your construction site. This dramatically increases your risk for utility damage, as most of the underground utilities will not be marked out by Call 811, even if you follow all of the rules and have a legal dig ticket.
How to prevent damages to private utilities.
When excavating on private campuses, you are at the greatest risk for damage to underground utilities. The only way to protect yourself, employees, company, and reputation is to hire a skilled professional private locating company to designate all of the underground utilities present throughout your work area. Private utility locating companies, like Utility Locator, LLC will ensure that all utilities are marked-out, including the private utilities that Call 811 will never locate. Call us today at (888) 232-5959 to discuss your project and to learn more about how we can help protect you from underground utility damages.